How often have you felt like you wish you knew what you wanted for your life?
Like you have had your goals for so long, but you still haven't made them happen yet?
Or maybe that you have a bigger vision for your life, but you struggle with staying motivated to actually make it your reality? 
But get this --
Your life doesn't need to be this constant runaround and it doesn't need to stay as it is if you are ready for a change!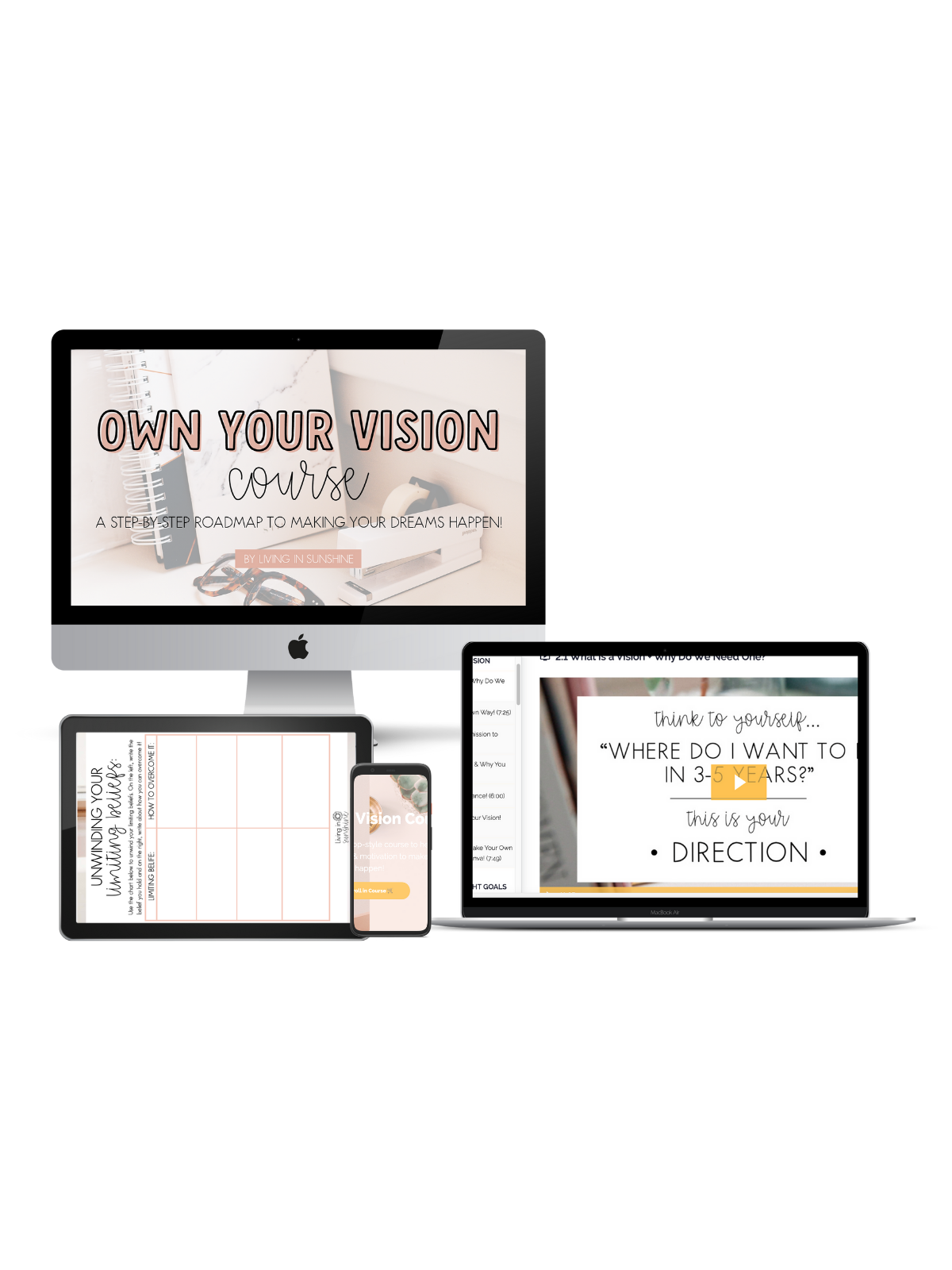 That's where the Own Your Vision Course comes in!
To help you tap into your inner power, cast a solid vision, and GET AFTER IT with
intention
and
purpose!
Turn your biggest goals and wildest dreams into your ACTUAL LIFE!
CLARITY + VISION + GOALS + COMMITMENT =
YOUR DREAM LIFE!
I used to spend my days wondering what I should be doing for work, doubting myself and my capabilities, and asking if I would ever figure it out.


Now I wake up on the daily feeling energized & ready to tackle each day with intention and purpose.
Now I am teaching you my tips & strategies inside of the Own Your Vision course so that you can live the same way!
In this course you will learn:
• How to gain clarity on what you actually want to do in life
• How to dream big & actually make those dreams come true 
• Why you haven't been hitting your goals and how to finally make them happen 
• Several ways to make your dream your reality, even if your current life is hectic and chaotic 
• How to reset your mindset through small habit changes (ever dream about waking up excited about your day? I'll teach you how!)


• How to create and chase a life you are totally obsessed with & one you are excited to wake up to every single morning!
A LOOK AT YOUR COURSE CURRICULUM:
No more…
>> Feeling like you aren't deserving.
>> Using your current or past circumstances to hold you back.
>> Wishing you could just find the motivation to do the work you need to do. 
>> Waiting for a sign or the "perfect moment" to make the moves you want to live the life you dream of.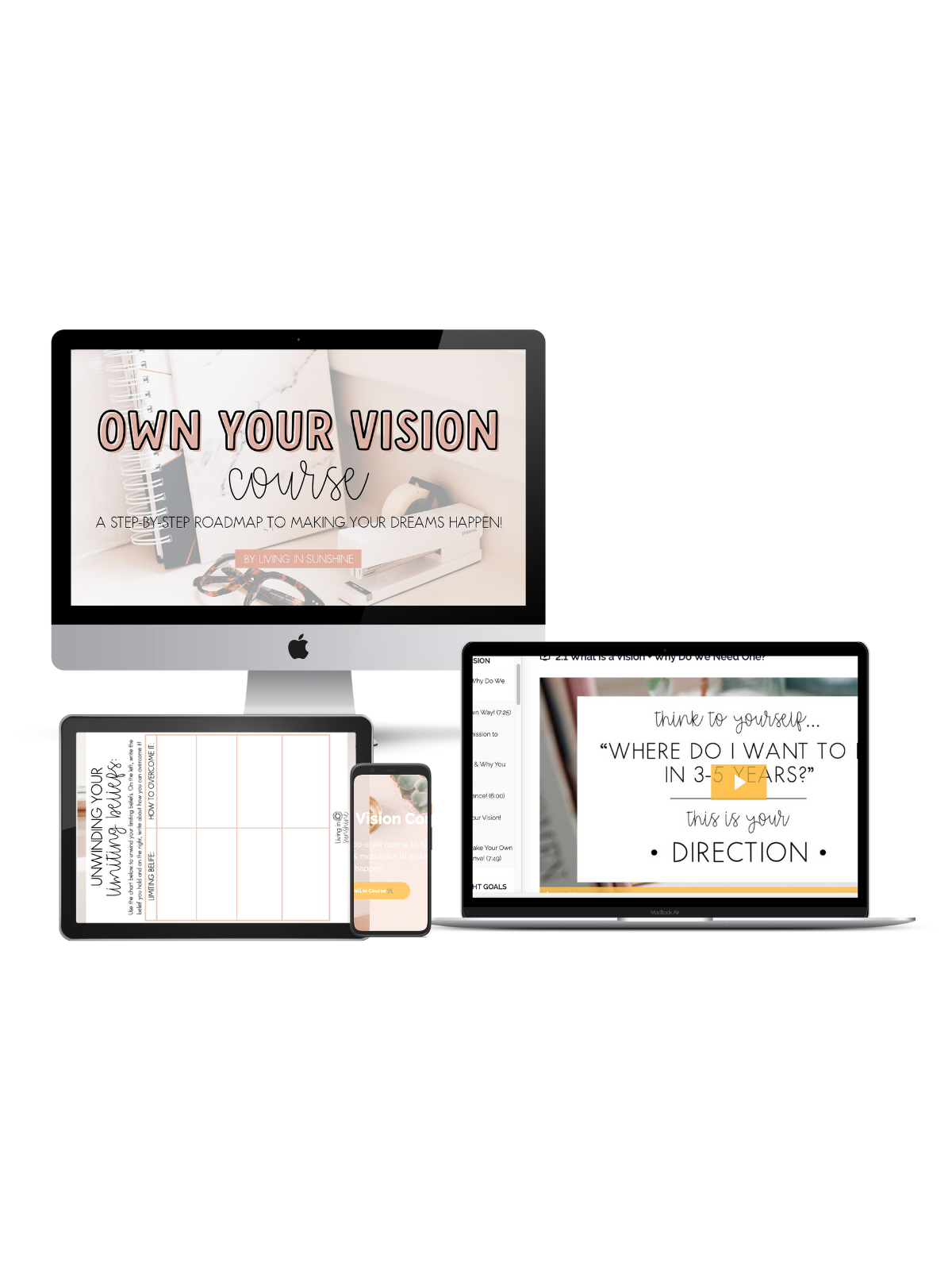 UPON ENROLLMENT YOU GET....
>> Immediate access to all curriculum consisting of slide videos & face to camera video lessons (25 video lessons in all!)
>> Helpful worksheets / action items to get you started
>> Full workbooks and walkthrough tutorials
>> 24/7 access to a private, members only community to help keep you accountable in your journey
>> Lifetime access across all devices
***Including ALL future updates* meaning: enroll now and you'll be "grandfathered" into future updates whereas new students will be required to pay increased enrollment fee.
And because I am never one to blow smoke, ever...
This course is 100% NOT for…
X
Someone who isn't willing to make any changes in their life to see progress
X
Someone who isn't willing to put in the work it takes to make their dreams happen 
X
Someone expecting 1-on-1 coaching or hand-holding, this is a Do It Yourself course with no additional support outside of the course curriculum (unless purchasing VIP package) 
X
Someone who isn't ready to get real with themselves, ready to take a deeper look into their daily actions, or make the space and time needed to work towards a life they want
FAQ & CONTACT:
Read through this Q&A section and if you still have questions on if this course is for you or not, please email me!
Q: Will this course help me gain clarity on what I want to be doing with my life?
A: YES!! I teach you a simple 3-step clarity gaining protocol in this course that I have personally used in my life to help me get on a path that felt exciting and impactful!


Q: Is this course for me even if I am not a business owner / don't want to start a business? 
A:YES!! This course is to help you make
any
kind of goal or dream you have happen for you. This course would be an awesome way to unblock yourself if you are wanting to start a business, but it's not solely for business owners / budding entrepreneurs.
Q: I already have a vision / big dream for my life, is this course for me?
A: Are you struggling with making the changes and taking the action you need to take in order to make that bigger vision come true? If so, then yes it is :)


Q: I really just struggle with getting motivated to work towards my goals! Will this course help me? 
A: Mmhhm!! There is an entire module focusing on gaining and maintaining momentum in this course where I teach you how to make your goals and dreams happen no matter how crazy life gets!
Q: I often find myself setting up big goals then failing, repeat repeat repeat. Will this course show me why I keep blocking my own path?
A: BEEN THERE, and yes! I give you a good dose of tough love in this course & helpful practices to go through if you are feeling like you are constantly "failing" at your goals so you can get unstuck and moving in the right direction!


Q: I really struggle with believing in myself, will this course help me gain confidence and belief?
A: 100%! With a whole module on mindset, I teach you exactly how I gained the confidence in myself to do things like start a business, produce a podcast, quit my 9-5 teaching position without a backup plan, and make my dreams of working for myself my actual LIFE. Confidence and self-belief will be second nature to you after going through this course!

Q: I would love to get coaching directly from Maddy, does this course include that?
A: Unless you choose to enroll with the VIP package, no. This course does not include any communication, direction, or coaching from Maddy outside of the course curriculum. The purchase of this course also does not allow for students to DM Maddy for questions or advice on any social media platforms related to this course. If you want support, you may ask your questions in the private Facebook community that is included with this course.


Q: Once I buy this course will I have access to it for good?
A: Yes ma'am! Your enrollment to this course gets you LIFETIME ACCESS to it including all updates and additional content added down the line. Each time this course is updated, the price will increase, so I encourage you to purchase it at the ground-level price before any future updates occur.

Q: I know I need this course but it is not within my budget…is there a payment plan?
A: Of course! I wanted this course to be really affordable so everyone who wanted it could enroll. The one-time payment option of this course is $197 and the payment plan is four payments of $62.50. The one-time enrollment fee is the better price, so I encourage you to choose that option if possible!
Still not sure if this is the right course for you? Email me at
*Results are not guaranteed because they depend on YOUR application of the course material.
Please reach out to [email protected] PRIOR to enrollment if you have questions, as WE DO NOT OFFER REFUNDS!